Deliver speed, great paper handling and quality image scanning for forms & documents !
Why a Fujitsu Scanner
Fujitsu today is a dominant market leader in its sales of document scanners, with more than 50% market share worldwide. With a well-known reputation for reliability, and an extensive experience of 18 years, Fujitsu scanners are manufactured to the highest quality standards. Its continuous rigorous efforts in R&D have produced scanners with the latest advanced technology, and this has helped Fujitsu maintain its leadership position in today's competitive environment. With its strong emphasis on reliability, ease of use & efficiency, Fujitsu scanners will produce the best scan possible with little or no human intervention. This results in optimum productivity.

Adoption of Charge Coupled Device (CCD)
Fujitsu scanners are installed with the latest CCD technology for deeper focal depth, vibrant colour reproduction and crystal clear images regardless of the scanning distance from the paper.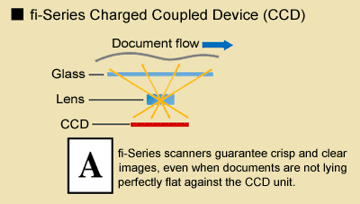 Straight Path Feeding Route
From thin tracing papers to thick cardboards, the Fujitsu scanners offers outstanding paper handling by allowing the paper to travel in a nearly straight feeding route when using ADF. This results in a shorter paper path that minimize paper jams. No more conventional U-shaped path that jams thick brochures and slows down operations significantly when scanning double-sides.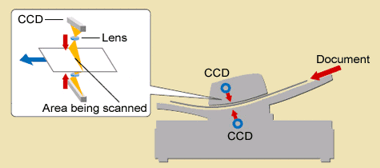 Multi Feed Sensors Support
Multi Feed Sensors are built-in with most Fujitsu scanners that detect whenever two or more documents have been simultaneously fed into scanner, regardless of document weight, size or color. The result is improved scanning efficiency.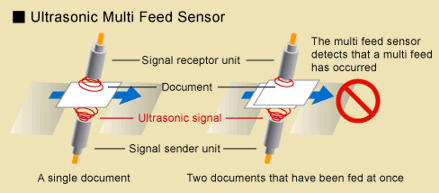 Automatic Document Feeders
Fujitsu scanners that come armed with ultra efficient automatic document feeders (ADF) are indispensable for quickly scanning large volumes of paper documents. These ADFs reduce pre-scanning processes by guaranteeing that documents are fed into the scanner one sheet at a time.
Simultaneous Duplex Scanning
To save valuable time and enhance maximum operation efficiency, Fujitsu scanners are equipped with dual-system independent CCD sensor and internal processing circuit that are capable of capturing both sides of a document with a one-time feeding. With this feature, users will not have to worry about order displacement when scanning large volumes of double-sided pages.
Key Features
Scan Speed : 60 - 100 sheets per minute (single or duplex)

Continuous Scan with Auto Document Feeder (80 - 300 sheets)

Image Sensor : Color CCD (Charge-coupled device)

Mono, Grayscale & Color Scanning up to 600 dpi (Optical)

Straight paper path to minimize paper jam & easy maintenance

Ultrasonic Multi Feed Detection